SERVICES:
My objective is to create exceptional images (or a design product) the Client needs in a cost-efficient manner.

PHOTOGRAPHY:
The cost of a photography session is based on the specifications of the job, time, materials, and ultimate usage of the images. Fee and usage are determined in discussion with the Client. The base Photography Fee is negotiable; it is not an arbitrary figure and may be adjusted for a Client dependent upon their circumstances. Digital post-production, materials, assistant fees, travel expenses, duplicate CDs & DVDs, prints, slide dupes, and retouching if needed, are not included in the photography fee. Extended travel, scouting and preproduction time is billed at a fraction of the day rate. Photography fee includes high-res Canon digital camera, or film 35m, 4x5, or 2 1/4 camera with strobe/tungsten lighting rigs, stands etc., usually ample equipment for most assignments. Unique equipment if needed, is rented and billed to the client. Images produced are Copyrighted: 'Bo Parker Photographer' and licensed to the Client. Complete digital and film lab services are provided for any size or type of reproduction.

GRAPHIC & WEBSITE DESIGN:
Bring me your project. Whether a brochure, booklet, print advertisement, or coffee table sized book, I can take it from concept, creation of copy, photography - all the way to finished product. If you're considering a video production, I have had considerable experience in video and film production as a writer, producer and director.

This site is entirely my content and created under my direction. I do not write code, but with my gifted daughter, Hayden Chance Parker (chanceparkerart.com), we can create an effective subtle design (or an outrageous visual extravaganza) for your business, put it on line and maintained at a competitive price. Talk to me about your project. Hayden has done a wonderful job of getting this site up and making it run. Visit her or my friend, Wayne Gura, another talented webmeister, also in Links.

I have recently begun photographing sports car races and Club events for different race prep shops. You may have seen this Porsche 944T making a delivery, or at a PCA event: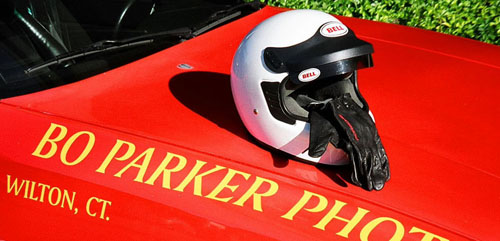 RESUMÉ:
BO PARKER: PROFESSIONAL EXPERIENCE
What began as a summer assistant job with Ezra Stoller in 1972 eventually led to becoming an Associate at Esto. Those years put me in a great profession. The skill set that started me out as an commercial photographer led me into book design, feature film production, and writing.

In 1978 an exhibit of my photography of Radio City Music Hall, sponsored by the "American Society of Interior Designers" (ASID), toured throughout the United States and was considered to be instrumental in keeping the Music Hall open. In 1981 and 1982, I received "Art Director's Awards" for my photography of Joan & David shoes as used in double page layouts in Vogue magazine. Over the years I have contributed to a wide selection of magazines; to name a few: Inc., AIA Journal, Interior Design, Interiors, Vogue, Broadband House, New York Times Magazine, and Success.

An abbreviated sample of past and current clients would include: Sotheby's, The Rockefeller Group, Inc., Donghia, Knoll, Skidmore Owings & Merrill, Buttrick White & Burtis, American Home Products, Formica Corporation, Metropolitan Museum of Art, Portman Properties, R.J.Reynolds Tobacco, Donnelly Marketing, Avalon Bay Communities, Frank Mercedes & Sons, and Seaboard Properties. Principal photographer between 1978 and 1998 for Rockefeller Center Public Relations, I have amassed an enormous collection of Center shots that continually appear in books throughout the publishing world. Among the many books I have participated in as a photographer: "Arranging: The Basics of Contemporary Floral Design", "The Christmas Tree of Rockefeller Center", "Flatiron", and most recently (photography & design), a romance novel Stealing Eyes, and a 220 page yearbook, "CVR Porsche Club 50th". As a principal photographer for Rockefeller Center Public Relations, I have amassed an enormous collection of Center shots that continually appear in books throughout the publishing world (see "Published Work"). I also do quite a bit of graphic design for all sorts of clients. I have included some of this work in "Graphic Design."